Microscopic organisms penetrate the body's natural barriers and multiply creating infectious diseases with symptoms ranging from mild to deadly. Although progress has been made to eradicate many infectious diseases, we still remain vulnerable. It's important to do our part to sanitize and disinfect in our best effort of mitigating these diseases and keeping our employees, and loved ones out of harm's way. 
Imperial Cleaning is proud to announce the introduction of the Protexus Electrostatic Sprayer with PURTABS to prevent infectious diseases in the workplace. Covid 19 Cleaning and Disinfecting you can trust!
Continue reading below to learn how this revolutionary combination will benefit your business.
Who is at Risk of Contracting an Infectious Disease?
Everyone! Although some groups of people appear to be at higher risk of more complicated or severe illnesses, everyone from our children to the elderly are all at risk of infectious diseases and developing serious complications! 
In business offices, hospitals, daycare facilities, schools, gyms, churches, retail stores, and restaurants – places in which you'd expect disinfection protocol to be at it's very best – why are so many people getting sick?
It is important that we do our part and reduce the chances of infection by regularly sanitizing high volume areas and facilities such as: 
Animal Care Facilities

Grocery Stores

Hotels

Movie Theaters

Residential Homes

Trains, Airplanes, and Busses
Are My Employees at Risk of Contracting an Infectious Disease?
Absolutely!! Any type of surface, especially those in public areas, have a high potential for being contaminated with viruses and bacteria. 
You may be asking yourself, "how does this affect my business?" 
Well.. does your office have any door handles or doorknobs? Viruses spread rapidly, one contaminated doorknob can infect 60% of office occupants within 2hrs.
Do your employees work from a computer in your office? Studies have concluded that desks and keyboards have up to 400 times the bacteria of a toilet seat.
Can I Use Bleach and Quats to Sanitize and Disinfect?
You certainly can!
However, traditional sanitizing and disinfecting approaches with chlorine bleach and quats are extremely toxic to humans, corrosive to materials, and harm the environment they are released into. This poses as a potential liability for you, your business, and your assets. 
COVID 19 Cleaning - Eradicate Bacteria and Viruses with a Non-Toxic Sanitizer / Disinfectant

Protexus and PURTABS bring the fight to pathogens and help stop the spread of infectious diseases. 
The Protexus Electrostatic Sprayer uses a touchless electrostatic delivery of the EPA registered Purtab solution keeping employees and customers safe while rapidly disinfecting your facility. 
While safe for humans and pets, PURTABS solution aggressively kills bacteria and viruses on surfaces. PURTABS eliminates odors while killing some of the most notorious pathogens including COVID-19, rhino/coronaviruses, norovirus, MRSA, herpes, polio, e-coli, and more. 
PURTAB tablets, which are both NIOSH and OSHA compliant, produce hypochlorous acid (HOCL) when added to water and are 100% safe and non-toxic to humans. 
HOCL shares the same chlorine family as bleach which is widely used in hospitals and medical facilities to kill bacteria, fungus, spores, and viruses. Unlike bleach, HOCL is non-irritating, non-carcinogenic, non-poisonous, and only has a mild chlorine smell which dissipates in minutes.
Naturally Produced
Hypochlorous acid is naturally produced in our bodies by white blood cells.
Kills Pathogens
The CDC and EPA concluded that HOCL can kill pathogens 50 times more effectively than bleach.
Kills Microbes
Undiluted HOCL is 4X more effective at killing microbes than typical OCLs.
Antifungal
PURTABS are antifungal and help eliminate odors.
Food Safe
PURTABS can be used as a no-contact food sanitizer or a hospital-grade disinfectant.
Disinfectant
PURTABS contains a cost-effective broad-spectrum disinfectant with far more kill claims than typical OTC cleaners.
Safe for All
PURTABS are non-toxic and PH balanced making it safe for surfaces, humans, and pets.
Non-Corrosive
PURTABS are half as corrosive as bleach when applied to metal surfaces.
Stays Active
With a neutral PH the effective bactericide (HOCL) stays active and effective for far longer than other agents
A Quick, Safe, Effective, and Groundbreaking Solution to Infectious Disease Prevention and COVID 19 Cleaning
Billions are spent on the war against infectious diseases each and every year and it has been difficult to implement a proactive approach until now. 
Imperial Cleaning's revolutionary technology combines the right chemicals with the perfect tools, resulting in an easier, safer, and more effective way to sanitize and disinfect. 
Ultimately, this superior level of protection will save your business thousands of dollars in work hours and productivity.
PURTABS is a sustainable, solid tablet form of Sodium Troclosene, NaDCC. This compound rapidly dissolves in water creating HOCL. Depending on solution strength, this versatile compound can be used as a food-grade cleaner to a heavy-duty hospital disinfectant. 
The active agent in PURTABS is sodium troclosene (NaDCC). While still a form of chlorine in the form of hypochlorous acid (HOCL), it is not a hypochlorite like chlorine bleach. The action of NaDCC significantly differs from standard chlorine, producing a stable solution once diluted. Studies conclude that HOCL has 4x the antimicrobial killing power of typical hypochlorites. It is strongly shown that this is due to the fact that HOCL is very similar to the structure and molecular size of H2O and is negatively charged allowing it to rapidly penetrate cell walls like water.
Biocidal Efficacy of PURTABS
PURTABS have the power to kill 99.999% of Bacteria and eradicate Viruses in 4 minutes! PURTABS proactive effervescent sanitizing and disinfecting tablets are effective on all surfaces against a broad range of microorganisms including: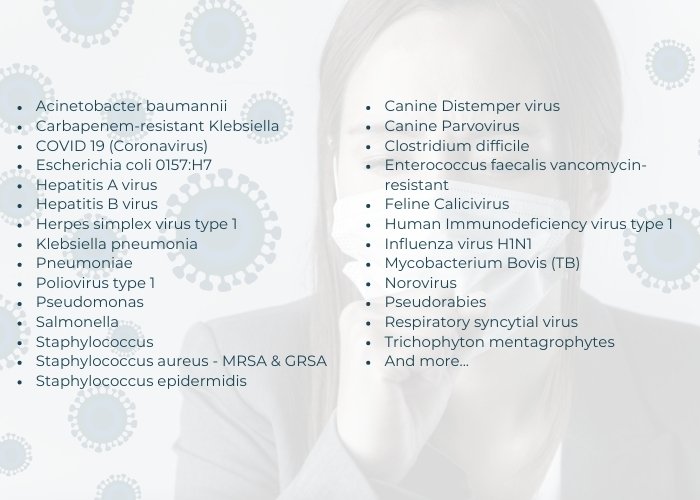 A Small Tablet That Holds the Power to Prevent Infectious Diseases
There are multiple overwhelming differences between Imperial's PURTABS and common sanitizer/disinfectants. This unique chemistry is less toxic and safe enough for daily use, yet powerful enough to kill dangerous viruses. 
PURTABS are proven to disinfect 99.999% of a wide variety of bacteria and viruses, including MRSA, H1N1, and COVID19 without causing the mutation of other "superbugs."
Depending on dilution, HOCL kills 99.999% of bacteria and destroys C-Diff within 4 minutes. 

Prevents microbes from thriving on surfaces keeping items from becoming contaminated.
With rapid disbursement and application, a pathogen crisis can be alleviated even in a moving ambulance.

Safely sanitizes food without the need to rinse.

With less dilution, PURTABS can be used as an industrial-grade disinfectant.
User friendly and much safer for humans than chlorine bleach. 

Environmentally safer than bleach or other more corrosive agents.
By doing our part to disinfect and sanitize, and abide by proper practices, we can maintain a safe and healthy environment to ensure your business continues running efficiently.
For more information about our Commercial Cleaning Services and how we can assist, please contact (208) 520-3202, email service@imperialcleaninginc.com, or schedule a consultation.